Commission from Pepper's Ghost Collective / "Re:VERB" at Emily Carr University of Art and Design Basically Good Media Lab
Public work-in-progress performance happened on November 18th, 2017 in Vancouver.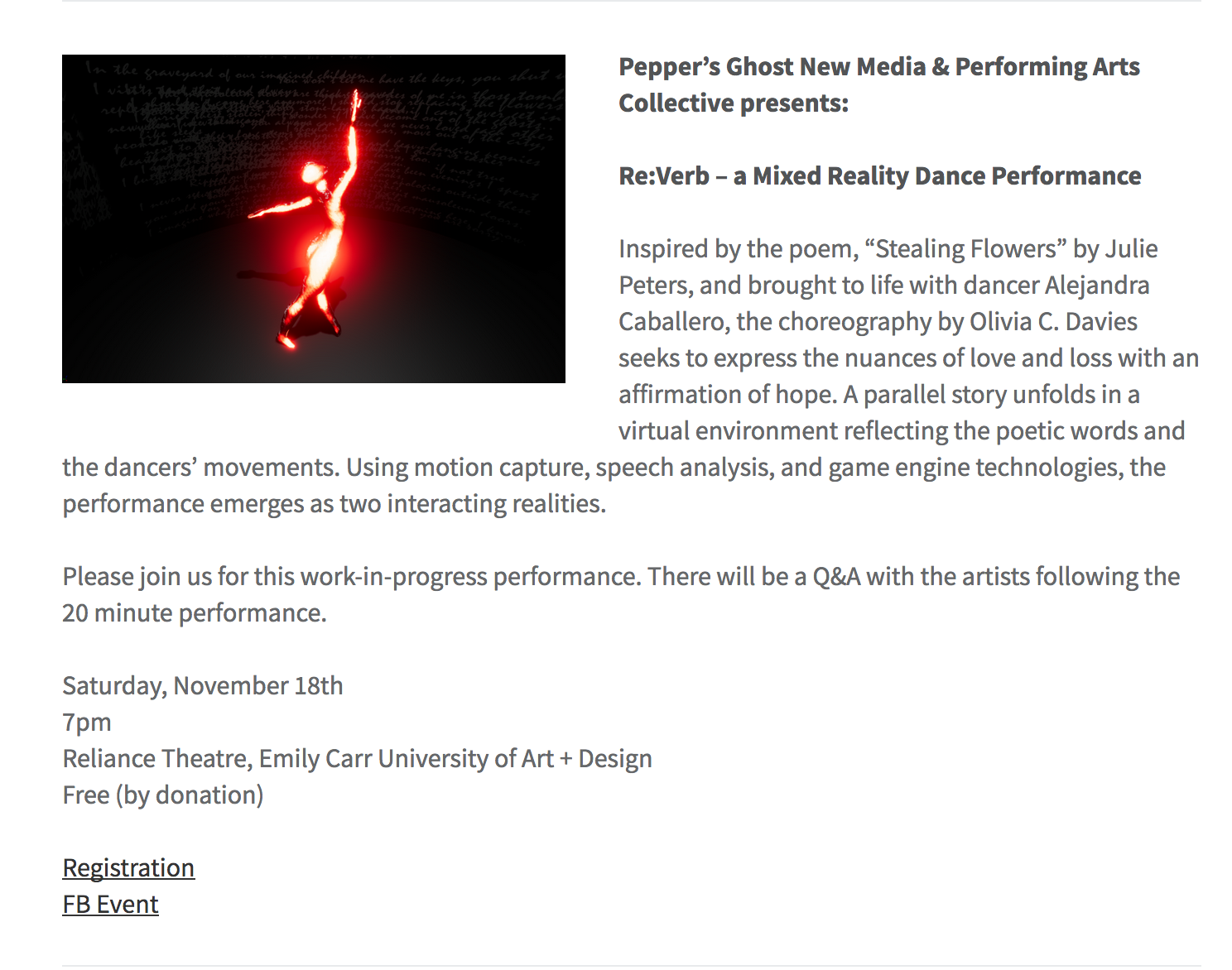 Event page here
---
Collaborator and Performer with Circadia Indigena Collective / Consequence Collective for "Greed/REsolve" at Queer Arts Festival 2017
Olivia C. Davies joined the Collective in early 2016 as collaborator for the creation and development of Greed/REsolve. She is honored to work fellow collaborators Byron Chief-Moon, J.P. Longboat , Luglio Romero, Luis Canton, and Damien Eagle Bear to develop the work for presentation at Talking Stick Festival 2016 , Vancouver International Dance Festival 2016 and Canada Dance Festival 2016 on the National Arts Centre stage. Greed/REsolve is an ever-evolving collaboration that is refined and re-defined through creative residencies. In 2017, this full-length work was shared with audiences in Vancouver as part of Talking Stick Festival 2017 and Queer Arts Festival 2017
---
Guest Performer with Julie JC Peters for Book Launch, June 2016
Julie JC Peters Book Launch  Olivia C. Davies will perform an excerpt from Crow's Nest and Other Places She's Gone, as an invited guest to the event launching Julie JC Peters' book, Secrets of the Eternal Moon Phase Goddesses: Meditations on Desire, Relationships, and the Art of Being Broken (SkyLight Paths). Part spiritual practice handbook, part introduction to Tantric traditions, part personal growth guide, this book is for anyone who wants to embrace the confusion, loss, loneliness, desire and pleasure that make up the spectrum of human experience―and better understand who they already are. Julie JC Peters is a yoga teacher and a writer with a biweekly column on yoga in Spirituality and Health Magazine. She has also represented Vancouver twice in the Women of the World Poetry Slam competition. She runs Ocean and Crow Yoga studio with her mom, Jane.
---
Guest Performer with Cherokee choreographer, Maura Garcia at Woodlands Cultural Centre, June 2016
First Movements – Dance Performance June 25, 8pm Woodland Cultural Centre is pleased to present for the first time Maura Garcia in a spectacular dance performance as part of First Movements. Maura Garcia is a dancer/choreographer who collaborates within communities to create stories of identity and place. Originally from North Carolina, Maura is an Indigenous woman (Cherokee/ Mattamuskeet) who brings her own mixed-blood southern story to all of her work. Concerns about the perpetuation of Cherokee life-ways, the environment and social justice underlie her creations. She uses her art to empower, to form connections, to uplift Indigenous cultural values and to explore the rhythms of the natural world.
---
Outside Eye with Subscura Collective
Olivia C. Davies is providing directorial assistance and outside eye awareness to Subscura Collective for their ensemble creation to be presented throughout Summer 2016. Presentations include mainstage at BassCoast Festival, Merritt, BC – July 2016, Shambhala Festival, Salmo, BC – August 2016.
---
Artistic Direction and Performance with somewhere there collective 2015
First formed in 2015 under the auspices of an ad-hoc collective loosely joined together by the mutual interest to create and perform avant-garde works of dance-music-poetry, the original members include poet Julie JC Peters, musician Sam Davidson (Spilt Milk), and dancer Olivia C. Davies. The collective performed their inaugural work, somewhere there, at the Brief Encounters Bad Ideas Cabaret in January 2015 and again at BC Buds Festival in May 2015 and The Falling Stars based on poetry by Rainer Maria Rilke with musician Hana Hermanek (Slice of Lime) at Thom Hamilton' Pop Up Performance Bike Tour, May 2015.
---
Co-Founder and Communications Coordinator with MataDanze Collective, 2006-Present
Co-founded in 2006 with dance artist Victoria Mata, the collective is made up of a diverse group of women from Canada, Venezuela and El Salvador. Our mission is to empower women through movement. Our work has toured throughout Canada and South America, with presentations in festivals, theatres, union halls, political rallies and community events. Our workshop series Storytelling Through Movement – Weaving Stories of Transformation and our choreographic works such as La Raza Cozmica, Dignidicada and Desapareicidas have been shared with dozens of women thanks to community support from Springtides Resources for Women with Disabilities, Toronto Rape Crisis Centre, North York Women's Shelter, Toronto District School Board, PRIDE Toronto, Buddies in Bad Times Theatre, Mayworks Festival and Toronto's Harbourfront Centre.