An excerpt from the Davies' full-length work Crow's Nest and Other Places She's Gone, this vignette is grounded in Contemporary Indigenous stories of women's transitions in and out of their nests.
Compass asks: Why does the edge call to us? What awaits us there?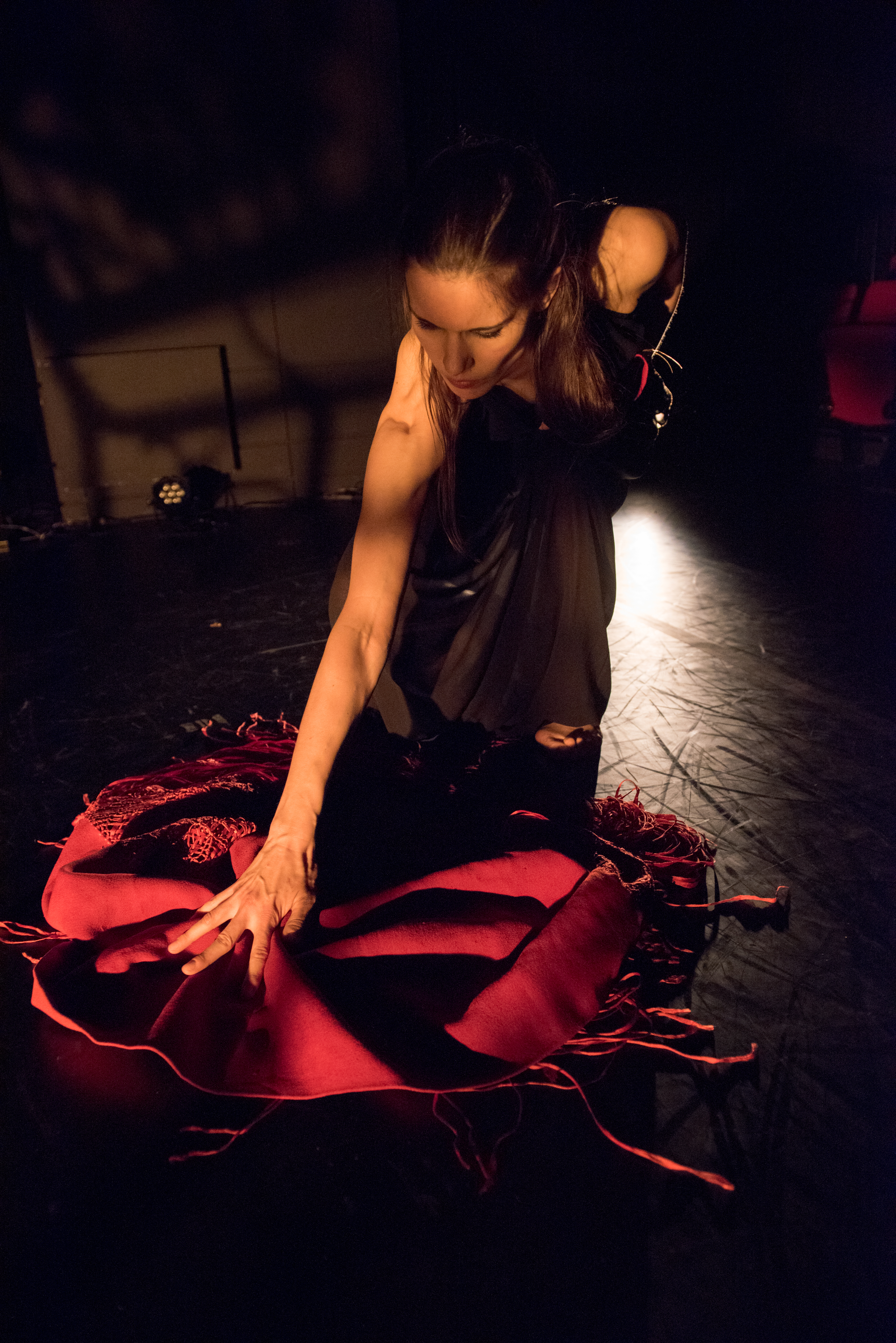 Compass describes a moment of existential revelation in a woman's life. An out of body experience leads to an opportunity for navigating the unknown territory and explore the rush of a brush with death. Something in her dreams will not let her rest. So, she moves towards the unknown. In doing so, she must shed layers of herself and move into the space at her feet. Gaining connection to the ground, she is then pulled up and out into the wider dimensions above, below, and all around her.
The choreography is performed with the same intensity as would be given to ceremony and ritual. The character wakes up to the realization that many different layers of reality exist in the same instant, and that he course of action taken can be profoundly altered as the push and pull of modern reality and the stillness of traditional ways of being intersect. The solo shares a glimpse into the transformation that occurs when accessing the potential to shed conventional human movement pathways in order to reach deeper into the wilder, more animalistic body language that gives way to expressions unhindered by ego and attitude.
This solo expresses a return to the primal to bring back the treasures of self-awareness and transformation. The element of water is expressed through the soundscape as a means of accessing intuition. Drawing on teachings of enhanced spiritual awareness made available through ritualistic transformation, this theme deep listening is expressed. Each moment in time holds the echo of past, present, and future. Compass is a metaphor for the heart; orienting the body through multiple dimensions and acting as a conduit for the interplay of forces of the seen and unseen world.

This solo was developed through artistic mentorship with dramaturge Alejandro Ronceria in 2015 and 2016 at Weesageechak Begins to Dance Festival, with Santee Smith and collaborators at Kaha:wi Dance Theatre's Creation Lab 2016, with Aurelie Pedron through Studio 303 REMIX residency in early 2017, and with choreographer, Starr Muranko leading up to the premiere of the full-length work. Canadian composer, Michael Red, composed original score with additional music compiled and edited by Olivia.

Throughout its development, the solo has taken on the tones of multiple themes including the transition from dreaming to waking, calm to commotion, stability to uncertainty, assuredness to frenetic disarray. This is a narrative that is transmitted through the body of the dancer (choreographer-performer, Olivia C. Davies). As "Blue", Olivia tells the story of a woman who is no longer attached to this world. She is increasingly disassociate, making her final steps to her final resting place, leaving her nest for the last time, to join her ancestors on the Other Side. The solo's set has certain anchor points that act as portals through which Blue can move in and out of waking life, her physical body and her astral body, life and life after death. It is a solitary journey that is loosely narrated by Coast Salish Storyteller, Rosemary Georgeson, in the role of "Rose". Speaking about her friend, "Blue" to the audience, "Rose", tells the story of the friendship of these two women who share the reality of living at the edge of society.

This work is for all-ages audience. Running time: 23min. Tech Rider and Promotional Package available upon request. Please contact info@oliviacdavies.ca

 

Previous Shows

• Work-in-progress at Weesageechak Festival 28 (Native Earth Performing Arts, Aki Studio, Toronto, November 2015),
• Work-in-progress at Ka:Hawi Dance Theatre Creators Lab (Ka:Hawi Dance Theatre, Oshweken Community Centre, Six Nations, July 2016),
• Work-in-progress at Weesageechak Festival 29 (Native Earth Performing Arts, Aki Studio, Toronto, November 2016),
• Work-in-progress at Studio 303 (Montreal, January 2017),
• As part of full-length work "Crow's Nest and Other Places She's Gone" produced by New Works Dance Allsorts (Vancouver, May 2017)
Olivia C. Davies / choreographer/director, performer "Blue"
Rosemary Georgeson / storyteller, performer "Rose"
Michael Red / composer; Compass PT1, Shiny Things, Rematriate
Starr Muranko / artistic mentor
Alejandro Ronceria / dramaturg "Compass" / W28, W29
Santee Smith / dramaturg "Compass" / Kaha:Wi Dance Theatre Creation Lab 2016
Aurelie Pedron / dramaturge / remixer "Compass" / Studio 303 REMIX 2017
Jono Kim / lighting design
Peter Quesnel / set design
Lee-Anne Styan / costume design
Emily Neumann / technical stage manager
Kristy Janvier, Emily Solstice / Collaborators in Development at KDT Creation lab 2016

Acknowledgement of funding support from BC Arts Council and Canada Council for the Arts, First Peoples' Cultural Council for the development and realization of this project and production support from New Works, The Dance Centre, Studio 303, Native Earth Performing Arts, my family and friends.

Miigwetch! All my relations.