Crow's Nest And Other Places She's Gone:
"We've been friends for so long, I can't remember a time when we weren't." (Rose)

Witness a journey of transition from this side to the other as told through a Contemporary Indigenous dance-theatre lens. Parallel worlds collide. This is the story of Blue and Rose, friends who have always been there for each other. Now it's time for Blue to move to the other side, and her lifetime friend, Rose, is here to tell Blue's story. Blue has had to navigate her way in and out of daydreams and the sometimes nightmare reality she lives at the edge of society. Referencing stories gathered by Sage Birchwater of Chiwid, a woman whose life was lived out of doors along the Salish Coast in Tsihqot'in territory up until the 1960's, "Crow's Nest" highlights women's stories of transition. Said to have special spiritual powers, Chiwid kept to herself and chose to live outdoors year-round. Transfer to today, and we are witness to Blue's story; a reflection of the women who have survived living on and off the streets with the power to navigate life in transience. The few possessions that remain with Blue through her journey are more precious than all the world's shiny things; her bench, her shawl, and her bundle; and at the end, her dearest friend, Rose, to tell Blue's tale and look back lovingly on the places she's gone.
Crow's Nest and Other Places She's Gone had it's world premiere on May 7th, 2017 at the The Cultch, and subsequent show on May 18th, 2017 at the Evergreen Cultural Centre produced by New Works / Dance AllSorts.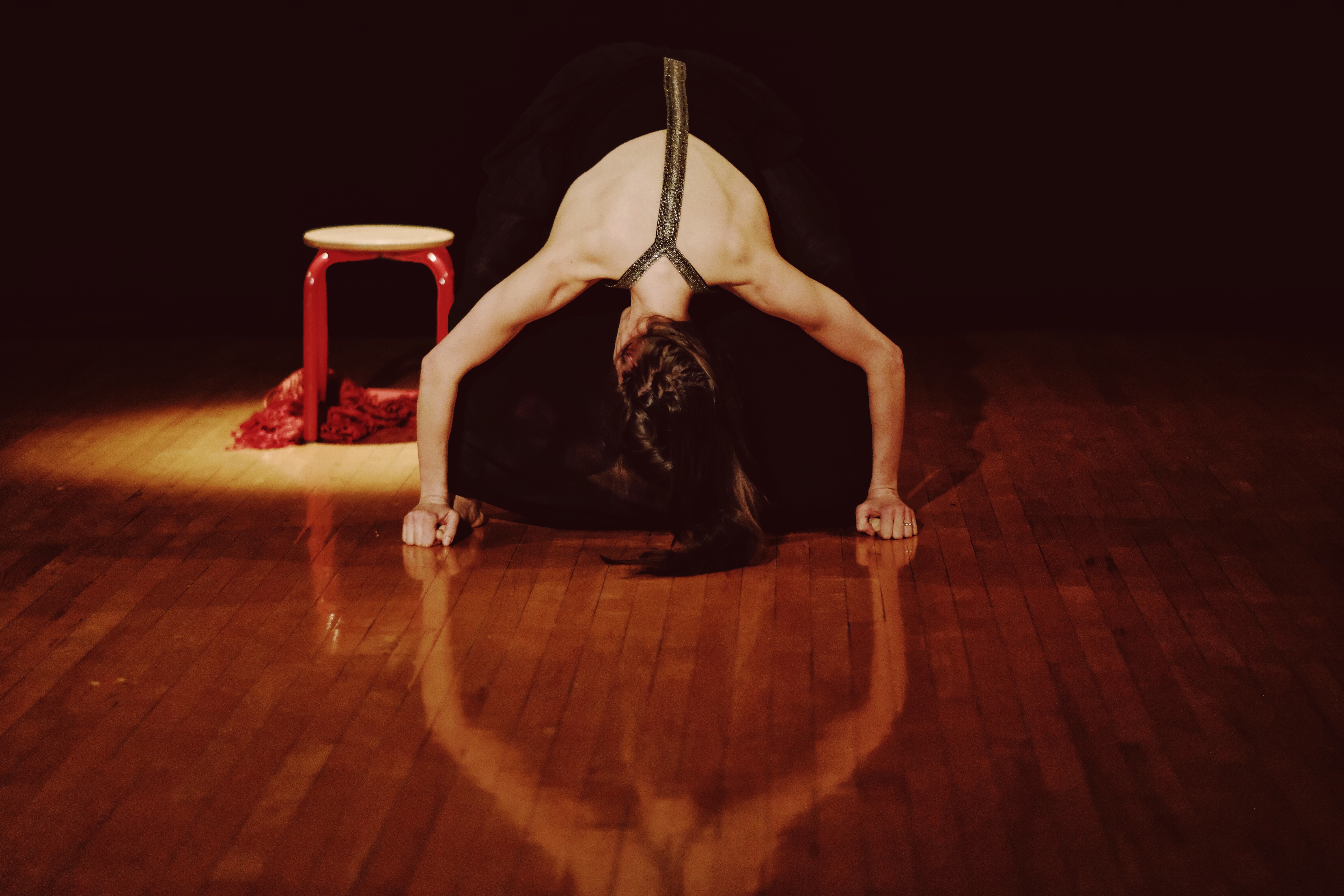 Through a series of three vignettes developed in collaboration with Coast Salish storyteller Rosemary Georgeson and transformed into choreographic expression by Olivia C. Davies, this work explores women's journeys in and out of Waking Life and Dream Worlds. Taking inspiration from stories of women's travels and their transitions in and out of their 'nests', this interdisciplinary work weaves threads of women's experiences finding their way in a world of chaos. The work seeks to explore ideas of choice; what gets left behind when moving from one place to another in search of happiness, comfort, and safety. This leaving behind pieces of oneself has consequences. What happens when we try to put the pieces back together? How do we make adjustments to the course and finally build our nest? What goes into it's weaving and what stays left behind?
---
Olivia C. Davies / choreographer/director, performer "Blue"
Rosemary Georgeson / storyteller, performer "Rose"
Emily Long / Aerial Hoop, performer "Dream Dancer"
Michael Red / composer; Compass PT1, Shiny Things, Rematriate
Starr Muranko / artistic mentor
Alejandro Ronceria / dramaturg "Compass" / W28, W29
Santee Smith / dramaturg "Compass" / Kaha:Wi Dance Theatre Creation Lab
Aurelie Pedron / dramaturge / remixer "Compass" / Studio 303 REMIX 2017
Jono Kim / lighting design
Peter Quesnel / set design
Lee-Anne Styan / costume design
Devin Kaczmarski / rigging
Gemma Crowe / rehearsal direction / outside eye
Jen Castro / production assistant
Emily Neumann / technical stage manager
Main Collaborators Bios
Rosemary Georgeson (Coast Salish/Dene) has worked on community-engaged and community play projects as an associate artist with Vancouver Moving Theatre, as story contributor and community worker for "In the Heart of a City: The Downtown Eastside Community Play", as co-writer and peer worker for "We're All in this Together", a giant screen shadow play on addiction and recovery; as co-writer and coordinator of "Storyweaving", created in partnership with the Vancouver Aboriginal Friendship Center, and as co-facilitator with Olivia C. Davies for "Home: Our Way" women's writing and movement workshops. Rose was the First Nations' community liaison for Urban Ink / Twin Fish Collective collaborative communities' play from an Aboriginal perspective, "A Community Remembers" in Williams Lake, BC. She received the 2015 Vancouver Mayor's Award for Emerging Artist in Community Arts and held the title of Aboriginal Storyteller in Residence at the Vancouver Public Library that same year. This is her first collaboration with Olivia / Crow's Nest Collective. www.rosemarygeorgeson.wordpress.com
Emily Long is an independent interdisciplinary artist, co-founder and co-artistic director of the Vancouver-based Subscura Performance Collective. Her passion for art and expression is a constant force in her life, taking priority and becoming her true focus. With several years of performance experience in dance, aerial hoop, and theatrics, she has committed to using the body to invent, infuse, inspire, re-wire, confuse, and create. Emily's message is always thought provoking. Challenging the comfortable, questioning everything, shape-shifting and spirit lifting, she delivers a non-conforming experience. Emily has collaborated with Olivia since 2015 www.subscura.com
Michael Red is a Sunshine Coast (and Vancouver) based electronic music producer, performer, DJ and curator. The founding member of Vancouver's Lighta! Sound, acting captain of the Low Indigo ship, one half of the experimental dub duo Chambers, curator for New Forms Festival for over ten years, Bass Coast Music Festival resident, Shambhala Music Festival performer over ten years, former long term collaborator with throat singer Tanya Tagaq, and ambient/experimental artist under the alias Souns. Michael has performed across Canada, Europe, Australia, NZ, Mexico, New York and has been written about in The Wire, XLR8R, Resident Advisor, and Vice's Thump. www.michael-red.com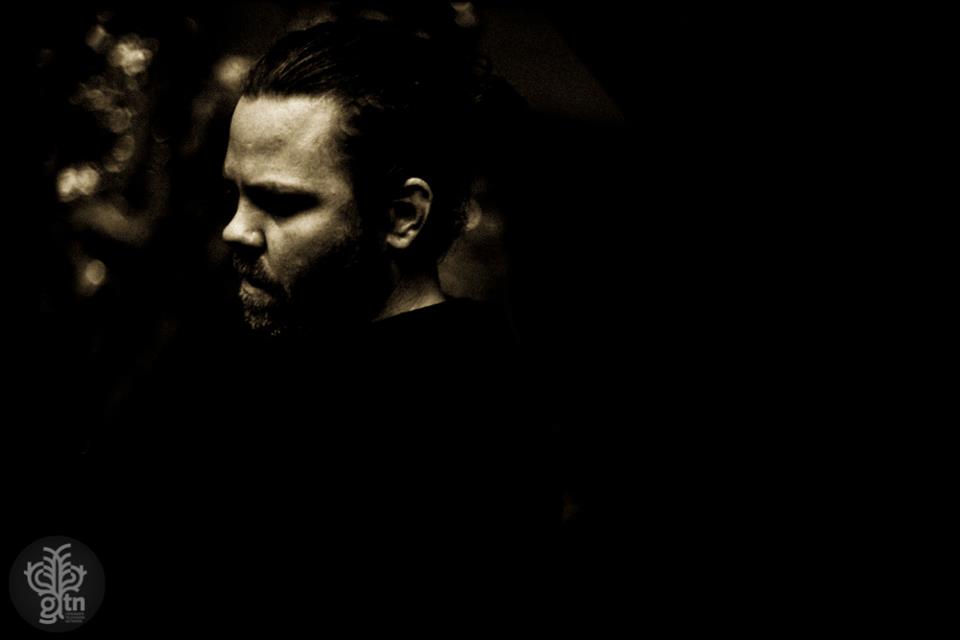 Starr Muranko is a professional dancer/choreographer based in Vancouver, BC and founder of Starrwind Dance Projects. She is also Artistic Associate with Raven Spirit Dance with recent choreographic work presented at the Scotiabank Dance Centre, Dancing on the Edge, Talking Stick Festival, Crimson Coast Dance Society and Weesageechak Begins to Dance Festival (Native Earth Performing Arts/Toronto). Starr is a proud member of the Dancers of Damelahamid (Gitksan) since 2005 and has toured regionally and internationally to New Zealand, Peru and Ecuador as well as participated in several of the 2010 Winter Olympic performances. She has performed and toured with Raven Spirit Dance (Gathering Light), Compaigni V'ni Dansi, the Louis Riel Metis Dancers, Still, In Motion and has worked with Alvin Tolentino (CO.Erasga) as part of Matriarchs of the Earth (BigSky Multi-Media Storytelling) project in Vancouver and Calgary. She has trained and performed internationally at the School for Performing Arts in Ghana, West Africa, the American Conservatory of Theatre in San Francisco, holds a BFA in Dance/Cultural Studies from SFU's School for the Contemporary Arts and has presented her research at the World Indigenous People's Conference in Education (WIPCE) in Cusco, Peru as well as the Dance Alliance of the Americas Conference in Vancouver and the URI Global Assembly in West Bengal, India. Starr is artistic mentor to Olivia in this project. www.starrwind.com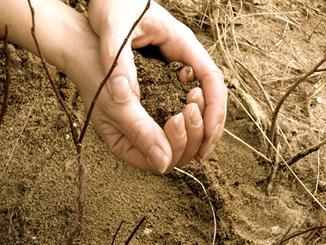 Dramaturg – Studio 303 / REMIX Residency (January 2017)
Aurélie Pedron is interested in marginalised populations and atypical spaces, in the relationship between body / materials / light, as well as in the audience-artist rapport. In addtion to her art videos, her performance work has been presented by Tangente, Studio 303, the SAT, the Ateliers Jean-Brillant, Festival de Théâtre de rue de Lachine, Danse-Cité, Festival du Nouveau Cinéma, DARE DARE and by Blinding Light in Vancouver. Creation 2017 residency at Studio 303 Montreal, QC Studio 303 REMIX
Dramaturg – Native Earth Performing Arts / Weesageechak Begins to Dance 28 (2015), Weesageechak Begins to Dance 29 (2016)
Alejandro Ronceria is an internationally acclaimed and award-winning director, choreographer, producer based in Canada. He has created and produced large-scale live events and cultural shows internationally, including the United States, Mexico, New Zealand, Germany and Colombia. Ronceria is the co-founder/founding dance director of the 1st Aboriginal Dance Program in North America at The Banff Centre. Ronceria received a Masters Degree in Fine Arts from York University in Dance Dramaturgy in 2010.
Outside Eye / Collaborator – The Dance Centre/Dance Lab Interdisciplinary Exchange Residency (Feb 2016)
Anne Riley (Cree/Dene) is a multidisciplinary artist based in Vancouver, BC. Her work explores different ways of being and becoming, touch, and Indigeneity. Riley received her BFA from the University of Texas at Austin in 2012. She has exhibited both in the United States and Canada. Research 2017 residency at The Dance Centre – Dance Lab with Anne Riley DanceLab Studio Showing
Special thanks to Native Earth Performing Arts / Weesageechak Begins to Dance for support and presentation at W28 and W29; the Scotiabank Dance Centre for Dance Lab creative research residency with artist, Anne Riley; Montreal's Studio 303 for REMIX 303 residency with choreographer, Aurelie Pedron; Kaha:Wi Dance Theatre for Creation Lab dramturgical support from Santee Smith and creative research with dancers Emily Solstice and Kristy Janvier; The Firehall Arts Centre for hosting "Home: Our Way" WWM Circles; Terra Breads and Kicking Horse coffee for their donations to our circles; Ciliate 9; One Thousand Rivers Academy of Arts and Learning; the BC Arts Council, Canada Council for the Arts, and First Peoples' Cultural Council; my husband and our family and friends who have supported this work through its development to premiere. Miigwetch! All my relations!
This work is for all-ages audiences. Running time: 55min. Home: Our Way community workshop can accompany performances.
Tech Rider & Promo Package available upon request. Please contact info@oliviacdavies.ca