Crow's Nest and Other Places She's Gone (Olivia C. Davies / ODD)  is a mainstage production with live storytelling. An intimate portrayal of women's experiences of transition; from life to death; togetherness to solitude; and ultimately this side to the other, this is the story of Blue and Rose, friends living on the edge of society who have always been there for each other. Contemporary choreography and storytelling are woven together through an Indigenous lens. The work draws inspiration from woman's stories; those that take place all around us in the world we inhabit today and those that take up space in our hearts and minds.
Crow's Nest and Other Places She's Gone had it's world premiere on May 7th, 2017 at the The Cultch in Vancouver, BC, and subsequent show on May 18th, 2017 at the Evergreen Cultural Centre in Coquitlam, BC, produced by New Works / Dance AllSorts.
The work has since been presented by the Downtown Eastside Heart of the City Festival on October 27th & 28th, 2017 in the KW Production Studio, Vancouver, BC.
Here's what audience members have to say:
Thank you for embodying Blue's spirit, her body, pain, struggle and resilience.  I feel you showed her soul. I hope to hold that and see it in all women, especially women like Blue that face the same challenges (Port Coquitlam resident)

Extremely powerful story and dance. Pretty well the most engaging and riveting I have ever seen/experienced.  (Strathcona resident)

There wasn't very many people getting clean /sober in the 1970's.  1st Nations People didn't advertise clean/sober.  There was little to none support for us then. It was always the assumption we wanted to stay alcoholics & addicts.  Powerful, expressive, a range of emotions conveyed.

The BEST.  Amen, Jesus.  The show gets better each time I see it.

Such lovely movement. I really find it evocative & telling. Thank you.

Powerful, affecting, impressive. Beautiful, amazing. Love it! Beautiful transitions, body awakening – very inspiring movement.  Dance at its best – story-telling, engagement & beauty of release

Instantly captivating, moving, interesting, funny, chilling, thought-provoking

Both thrilling and chilling and utterly relevant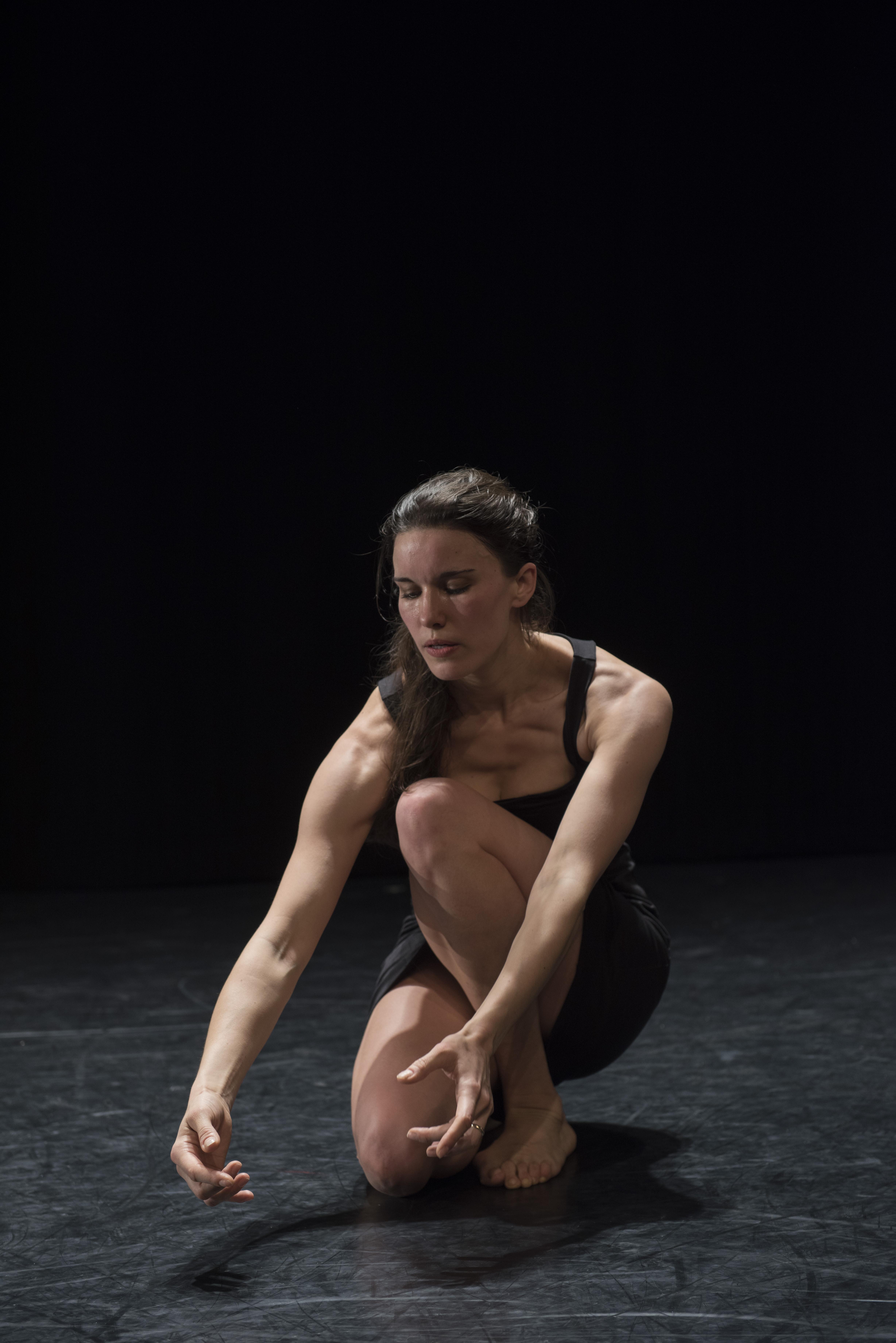 Synopsis
Through a series of three vignettes developed in collaboration with Coast Salish storyteller Rosemary Georgeson and transformed into choreographic expression by Olivia C. Davies, this work explores women's journeys in and out of Waking Life and Dream Worlds. Taking inspiration from stories of women's travels and their transitions in and out of their 'nests', this interdisciplinary work weaves threads of women's experiences finding their way in a world of chaos. The work seeks to explore ideas of choice; what gets left behind when moving from one place to another in search of happiness, comfort, and safety. This leaving behind pieces of oneself has consequences. What goes ahead and what remains left behind?
---
This work is for audiences 10+ with a running time of 55min, no intermission.
Home: Our Way community-engagement workshop can accompany performances.
Tech Rider & Promo Package available upon request. Please contact info@oliviacdavies.ca
Presenters, please visit this site for more info:
Key Collaborators:
Olivia C. Davies / choreographer/director, performer "Blue" * TOURING COMPANY
Rosemary Georgeson / storyteller, performer "Rose" * TOURING COMPANY
Emily Long / Aerial Hoop, performer "Dream Dancer" * TOURING COMPANY
Jono Kim / lighting design * TOURING COMPANY
Jacob Ooudshoorn / professional rigging * TOURING COMPANY
Emily Neumann / technical stage manager * TOURING COMPANY
Additional Credits:
Michael Red / composer
Starr Muranko / artistic mentor
Anne Riley / creative research Dance Lab 2017
Alejandro Ronceria / dramaturg  / Weesageechak 28, Weesageechak 29
Santee Smith / dramaturg / Kaha:Wi Dance Theatre Creation Lab
Aurelie Pédron / dramaturg / Studio 303 REMIX 2017
Rosemary Georgeson (Coast Salish/Dene) has worked on community-engaged and community play projects as an associate artist with Vancouver Moving Theatre, as story contributor and community worker for "In the Heart of a City: The Downtown Eastside Community Play", as co-writer and peer worker for "We're All in this Together", a giant screen shadow play on addiction and recovery; as co-writer and coordinator of "Storyweaving", created in partnership with the Vancouver Aboriginal Friendship Center, and as co-facilitator with Olivia C. Davies for "Home: Our Way" women's writing and movement workshops. Rose was the First Nations' community liaison for Urban Ink / Twin Fish Collective collaborative communities' play from an Aboriginal perspective, "A Community Remembers" in Williams Lake, BC. She received the 2015 Vancouver Mayor's Award for Emerging Artist in Community Arts and held the title of Aboriginal Storyteller in Residence at the Vancouver Public Library that same year. This is her first collaboration with Olivia / Crow's Nest Collective. www.rosemarygeorgeson.wordpress.com
Emily Long is an independent interdisciplinary artist, co-founder and co-artistic director of the Vancouver-based Subscura Performance Collective. Her passion for art and expression is a constant force in her life, taking priority and becoming her true focus. With several years of performance experience in dance, aerial hoop, and theatrics, she has committed to using the body to invent, infuse, inspire, re-wire, confuse, and create. Emily's message is always thought provoking. Challenging the comfortable, questioning everything, shape-shifting and spirit lifting, she delivers a non-conforming experience. Emily has collaborated with Olivia since 2015 www.subscura.com
Michael Red is a Sunshine Coast (and Vancouver) based electronic music producer, performer, DJ and curator. The founding member of Vancouver's Lighta! Sound, acting captain of the Low Indigo ship, one half of the experimental dub duo Chambers, curator for New Forms Festival for over ten years, Bass Coast Music Festival resident, Shambhala Music Festival performer over ten years, former long term collaborator with throat singer Tanya Tagaq, and ambient/experimental artist under the alias Souns. Michael has performed across Canada, Europe, Australia, NZ, Mexico, New York and has been written about in The Wire, XLR8R, Resident Advisor, and Vice's Thump. www.michael-red.com
Special thanks to Native Earth Performing Arts / Weesageechak Begins to Dance for support and presentation at W28 and W29; the Scotiabank Dance Centre for Dance Lab creative research residency with artist, Anne Riley; Montreal's Studio 303 for REMIX 303 residency with choreographer, Aurelie Pedron; Kaha:Wi Dance Theatre for Creation Lab dramaturgical support from Santee Smith and creative research with dancers Emily Solstice and Kristy Janvier; The Firehall Arts Centre for hosting "Home: Our Way" Circles; Terra Breads and Kicking Horse coffee for their donations to our circles; Ciliate 9; One Thousand Rivers Academy of Arts and Learning; the BC Arts Council, Canada Council for the Arts, and First Peoples' Cultural Council; my husband and our family and friends who have supported this work through its development to premiere. Miigwetch! All my relations!