Spots Open Now!
Home:Our Way ~ women's writing and dance circle in October 2017

Home:Our Way ~ women's writing and dance circle in March 2017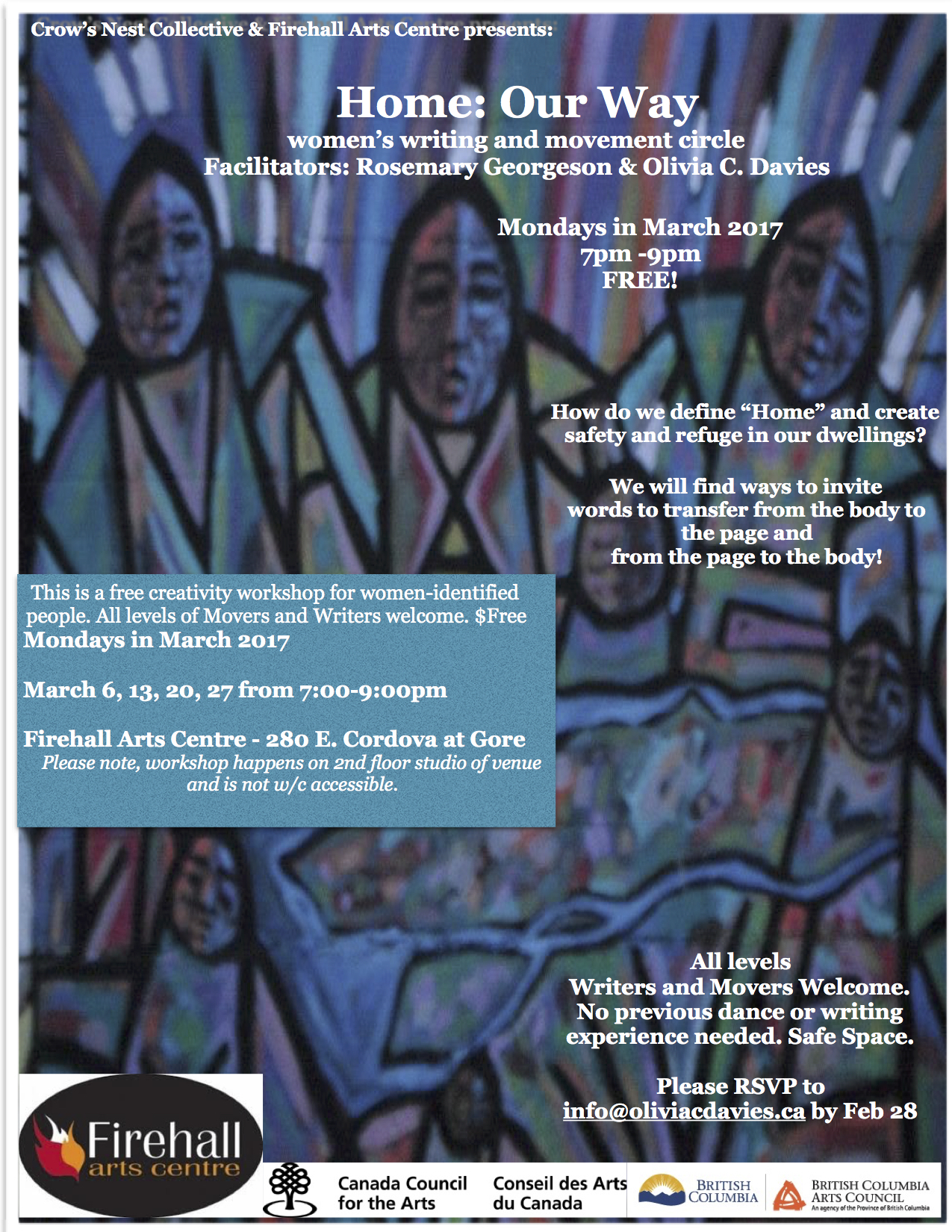 Storytelling Through Movement – available on demand
Through a series of investigations into personal gesture and story, we will develop the tools of collective creation. Starting with warm-up exercises to awaken the body/mind/breath connections, we will explore patterns to develop locomotion and coordination skills. Participants will be introduced to improvisation exercises and apply techniques to generate dance vocabulary based on personal gesture. Movement motifs will be established through individual and duet exploration on themes. Throughout the workshop, we will develop of the seeds of collective creation and group visioning.
@ Shadbolt Arts Centre: Beginner Adult Modern on Tuesday evenings
These classes are contemporary and release-based in approach. Dancers begin with floorwork to find a relationship with gravity, breath support, core support and body connectivity.Students then move through space focusing on the use of the spine and the carving of3-dimensional space. Each class ends with expressive movement sequences that travelthrough space. Individuality, expressivity, and movement invention through structured improvisation is also explored in a supportive environment to live accompaniment.Beginner. For those with little or no modern dance experience.
@ Moberly Arts Centre: Arts & Health / The Moberly Senior Dancers on Thursday mornings
A community-engaged art practice is a working collaboration between professional artists and community participants who work on the creative expression of ideas and issues that are important to them. It is cooperative, participatory, and focused on exploration, creation, and relationship-building. The process of creation is as important as the final product. We share stories, we dance, and then we have tea.
Intro to Ballet – available on demand
Based in R.A.D and Cechetti forms, this workshop provides participants with basic knowledge and practice in the structural postures and fundamental movement phrases of Classical Ballet. Designed to be flexible for movement beginners, athletes required to obtain and utilize basic understanding of dance aesthetic, or curious people with no previous dance experience, this workshop can be shared individually in one-on-one setting or in small groups for cumulative series training.
Meditative Movement – available on demand
Learning to follow impulse and travel pathways based on intuitive sensing is all part of the meditative flow that can unravel held trauma and re-ignite passion for locomotion and playful expression. This workshop can be shared with new movers and practiced movers.
Weaving Stories of Transformation – a workshop series produced by MataDanze Collective
Produced by MataDanze Collective in Toronto with support from the Canada Council for the Arts, this workshop provided women who had recently experienced homelessness and life in shelter and experience of sharing their own stories of transformation with the tools of expressive movement. Co-facilitated with choreographer, Nicole Nigro, and members of MataDanze Collective in May 2016.
Spirit Bones: Arrivals Legacy Project – a workshop series produced by Diane Roberts
Produced by Urban Ink Productions in collaboration with the Pacific Association of First Nations Women in Vancouver, The Arrivals Personal Legacy Process is a transformational exploration of ancestry, ceremony and root cultural practices for artists and creators of change. The Arrivals Legacy Process draws inspiration from African and diasporic performance traditions to give participants the tools to connect in profound ways to their authentic histories. Co-facilitator with director Diane Roberts and facilitators Jude Wong and Rosemary Georgeson in February 2014