Commerce, greed, and disenfranchisement are key themes in this collaborative evening of two dance works, created by Vancouver's Byron Chief-Moon (Kainai) and Ottawa-based JP Longboat (Mohawk-Cayuga) in collaboration with Olivia C. Davies (Metis-Anishnawbe) and Damien Eaglebear (Kainai).
June 27 & 28, show 8pm
Venue: Roundhouse Community Arts Centre – 181 Roundhouse Mews, Vancouver, BC V6Z 2W3
Olivia C. Davies joined the Collective in early 2016 as collaborator for the creation and development of Greed/REsolve. She is honored to work fellow collaborators Byron Chief-Moon, J.P. Longboat , Luglio Romero, Luis Canton, and Damien Eagle Bear to develop the work for presentation at Talking Stick Festival 2016 , Vancouver International Dance Festival 2016 and Canada Dance Festival 2016 on the National Arts Centre stage. Greed/REsolve is an ever-evolving collaboration that is refined and re-defined through creative residencies. In 2017, this full-length work was shared with audiences in Vancouver as part of Talking Stick Festival 2017 and Queer Arts Festival 2017
Multiple narratives are drawn through these choreographies: the individual confronting society; attaining self-realization and freedom; greed and imbalance; and Traditional Knowledge and Values in the face of corporate capitalism. These performances highlight Canada's systematic marginalization of First Peoples from the land, its resources, and their way of life.
Layering First Nations worldviews on the dissonance of agency that exist throughout society, Greed is an examination of today's exploitative stock market and the crippling effects of corporate self-indulgence and exploitation.
REsolve addresses de-colonization of both self and homeland through an awakening of the individual confronting an authoritarian system, and implores all peoples to take control of their own destiny by challenging economic slavery and psychological bondage.
With four dancers, an exhilarating sound track, and projected live video, Greed/REsolve represents the next phases of creative development for this project; expanding the choreographic language; interweaving First Nation's concepts of 'greed', imbalance and discord; and highlighting Canada's systematic disenfranchisement of First Nations Peoples from our homelands, territories and our wealth of natural resources.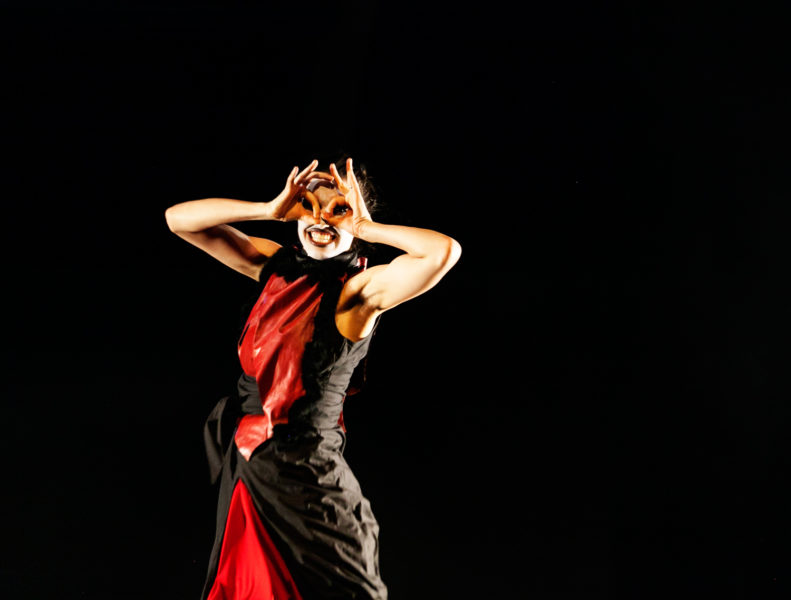 Byron Chiefmoon, JP Longboat, Olivia C. Davies / creation, performance
Damien Eagle Bear / video, projection
Greed is a themed-based examination of today's exploitative stock market system and the effects of crippling corporate and personal greed. This work is a juxtaposition of Traditional Knowledge and values that maintain a living harmony with the natural environment and provides dynamic balance through 'taking only what is needed'. The actions and intentions of greed carry over and compound biospheric destruction affecting the living balance of the planet. This work layers First Nations worldviews on the dissonance of agency that strips the resources from our territories and poison's the environment around us.
REsolve is a companion piece to Greed and layers First Nations worldviews with issues of de-colonization of self and homeland. Through an awakening of the individual confronting an authoritarian system set on keeping us in a increasingly dependent matrix, REsolve is taking control of your own destiny by exposing the hollow lies from leaders and officials, and challenging our present economic slavery and physiological poisoning. These are transcendent moments of realization and awakening, where one has no choice but to stand up for freedom, and mobilize the ability to act and (self)determine.
Previous Shows
Talking Stick Festival, Roundhouse CC, Vancouver, BC – Feb 2016 and Feb. 2017
Vancouver International Dance Festival, Roundhouse CC, Vancouver, BC – March 2016
Canada Dance Festival National Arts Centre, Ottawa, ON – June 2016
Producing Organization
Circadia Indigena – Indigenous Arts Collective is made up of professional and community artists from a variety of First Nations who bring their artistic experience, expertise and knowledge to projects of a cultural, collaborative and creative nature. This arts 'circle' is a diverse and flexible group of Indigenous artists dedicated to developing, presenting, producing, animating and disseminating outstanding visual and performance art rooted in Indigenous culture, story, languages, and relationships to the land and Universe.
Circadia Indigena was created to bring in to being gathering places where Indigenous artists can remember, explore, and create new images that restore oral traditions, performance aesthetics, music, and the visual arts. The collective supports Indigenous artists to tell their stories through: theatre, dance, storytelling, film, music, electronic media, performance, and cultural formats – creating stories that merge cultural history with our contemporary voices, presenting visions, dreams and images for now and our seven generations.