Based on true events, Open Fire follows one woman's return to the place of her mother's murder, and the subsequent journey through blood memory she must take to get there.
"This is where the earth swallowed my mother whole", she said out loud to those who'd accompanied her, secretly hoping that the passing nun would hear and stop to offer solace, perhaps a prayer. "This is where my mother disappeared", she clarified." – Open Fire, Carmen Aguirre
In the 1970s, thousands of Argentinian revolutionaries were disappeared by the dictatorship's government forces that carried out acts of kidnapping and murder. Based on true events, Open Fire follows one woman's return to the place of her mother's murder in a Buenos Aires barrio and the subsequent journey through blood memory she must take to get there. How does the mind hold such memories in its countless folds, only to release them years later at the scene of the crime? Open Fire asks whether we can ever reconcile the past and move forward out of the solitary confinement of trauma.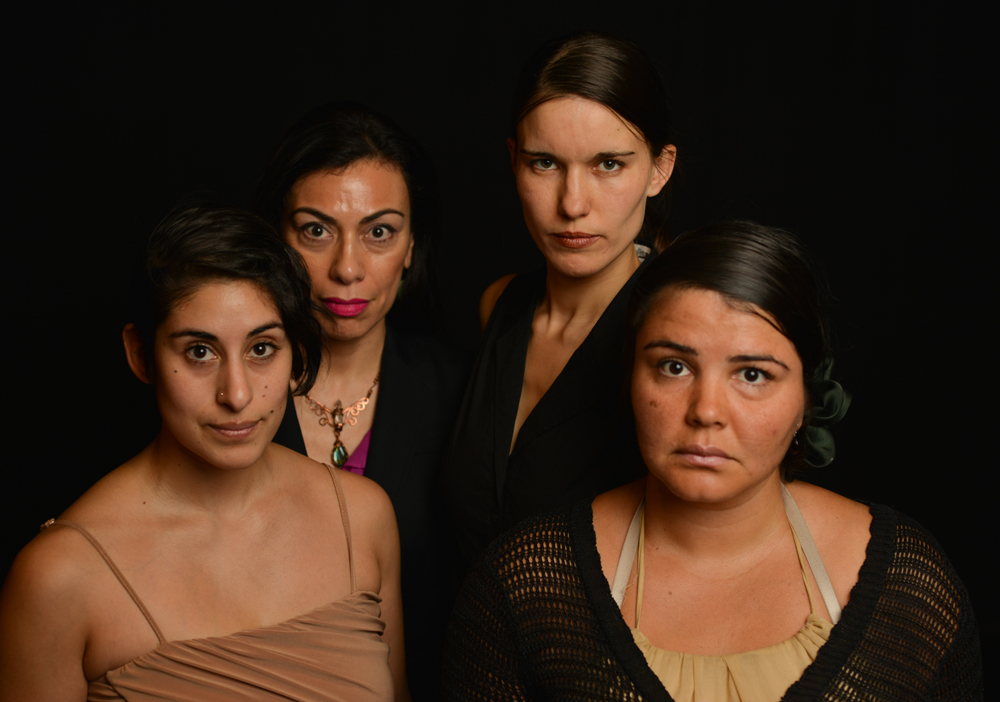 Olivia C. Davies / choreography, performance
Carmen Aguirre / original story, narration
Alejandra Miranda Caballero, Sindy Angel / performance
Sky Shaver / original music
James Proudfoot / lighting design
Julia Carr / rehearsal direction
Tai Grauman / dramaturgy
Acknowledgement to the Chan Centre for the Performing Arts and The Dance Centre for their support in the development of this work, with additional support from the Canada Council for the Arts and BC Arts Council.
Previous Shows
Beyond Words, Chan Centre for the Performing Arts, March 2016
Press
Open Fire unites page and stage for Dance Centre series, The Georgia Straight, Mar 2016.
Additional Notes
This story reflects on the trauma experienced by survivors of political violence, specifically focusing on the children of the parents persecuted and disappeared for their political beliefs. The children of the disappeared grew up never knowing whether their parents were indeed dead, where their unmarked graves were, or whether they may still be alive somewhere suffering in silence. This project resulted as artistic collaboration with author, Carmen Aguirre, to create an impactful performance that exposes the intergenerational trauma experienced by family members of disappeared political revolutionaries.
Choreographer's Artistic Statement
"I create and perform Contemporary Aboriginal dance-theatre. My choreography explores ideas of shared history, personal legacy, and blood memory. I honour my mixed Metis-Welsh-Anishnawbe heritage in my work. My choreography speaks to the vulnerability of the human experience. I am compelled to flesh out narrative and produce storytelling through movement. Through my work, I express stories of transformation. I listen to the subtle impulses of my body. It is always speaking to me. My body is composed of the universal rhythms of ebb and flow. I hear the wisdom in my bones. I tap into the memory in my blood that gives shape and weight to the impulses of my heart. I hear the call of my ancestors and I answer. As we meet, past, present and future do too." – Olivia C. Davies
Bios
Olivia C. Davies is an independent dance artist and choreographer whose work investigates the body's dynamic ability to transmit narrative. She honours her mixed Welsh, Métis-Anishnawbe heritage in her contemporary Aboriginal dance practice. In 2006, Davies co-founded the MataDanZe Collective and began facilitating Storytelling Through Movement workshops, along with co-creating numerous works that toured through Canada and South America. The Collective received the Women of Distinction award in 2011 for their work of empowering women through movement. Olivia's choreography has been presented by Harbourfront Centre's 60×60 Dance, Fashion Art Toronto, Scotiabank Toronto Nuit Blanche Festival, BC Buds Festival, Dancing on the Edge, Weesageechak Festival and Talking Stick Festival. Davies has interpreted work by Body Narratives Collective, Starrwind Productions, Circadia Indigena, and Maura Garcia Dance and she is an apprentice with the Dancers of Damelahamid. To date she has adapted writings by E.E. Cummings, Khalil Gibran, Julie JC Peters, and now Carmen Aguirre. Olivia formally trained at York University.
Carmen Aguirre is a Vancouver­-based theatre artist and author. She has written and co­written twenty­five plays, including Blue Box, The Trigger and The Refugee Hotel, and has eighty film, television and stage acting credits. Her second memoir Mexican Hooker #1 and My Other Roles Since the Revolution was published this spring to outstanding reviews in Canada and the United Kingdom, and is a Canadian bestseller. Her first book, the critically­-acclaimed Something Fierce: Memoirs of a Revolutionary Daughter won CBC Canada Reads 2012 and is a #1 national bestseller. Carmen is currently working on three new plays, Anywhere But Here, Broken Tailbone, and The Trial of Tina Modotti. Her short story Open Fire was featured as part of The Chan Centre's Words In Motion in March 2016, and her short story Our Lady of San Juan River is in the current issue of Room Magazine. Carmen is the recipient of the Hispanic Business Alliance's 2014 Ten Most Influential Hispanics in Canada Award, Latincouver's 2014 Most Inspirational Latin Award, a 2014 Betty Mitchell outstanding acting award for her work in Alberta Theatre Projects' The Motherfucker with The Hat, the 2012 Langara College Outstanding Alumna Award, the 2011 Union of B.C. Performers' Lorena Gale Woman of Distinction Award and the 2002 New Play Centre Award for Best New Play for The Refugee Hotel. Carmen is a graduate of Studio 58.
Alejandra Miranda was born in La Paz- Bolivia, where she started dancing ballet. She started her Contemporary dance training with Bolivian choreographers Truddy Murillo and Norma Quintana. She has danced with Gaviota Dance Company and Guayruru Project and trained in Buenos Aires, Argentina with Alfredo Gurquel and Alejandro Totto, among others. Alejandra currently lives in Vancouver and is in her second season with Contemporary dance company, Lamondance.
Sindy Angel was born and raised in Cali, Colombia, where she began her professional theatre training. She co-founded an independent theatre company performing shows and workshops in several theatre festivals in South America. She started the first theatre program in the women's prison in Cali. Since moving to Vancouver, she has facilitated Theatre of the Oppressed Workshops for youth, women, immigrants and refugees. Sindy has also worked as an actor with New World Theatre and Theatre Terrific.
Sky Shaver is a composer, synthesist and sound designer based in Toronto. He has produced and performed music for film, theatre, dance and circus cabaret.
Vimeo:Vimeo